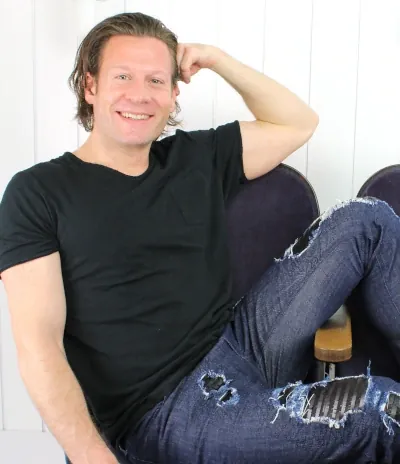 I'm Christian Moore. As a teenager I started with simple sewing projects - in the 1990s I was initially very fond of jeans sewn into flares. This was followed by the challenge of sewing a pair of jeans from scratch. And so I improved from project to project - with one or the other failure. But who doesn't know that? The seam ripper is sometimes simply indispensable 😅.
In 2010 I finally founded my jeans brand with the original name "Weißenberger - Customized Denim". With my name change, my company also had to change the brand name and has been called MOORE DENIM since 2014.
At the same time, I decided to continue the exclusive outfits under my premium brand CHRISTIAN MOORE.
In this shop, I sell fabrics and buttons that I use for my two fashion brands. So you can be sure that you are only buying high-quality goods.
The jeans label MOORE DENIM
MOORE DENIM is my denim brand. All designs are made by myself. Customers can even put together their personalized product from the various options.
The product range includes various jeans products for men. These are short and long jeans, denim jackets and since 2022 also T-shirts.

Discover the PREMIUM-LABEL
I also create extraordinary outfits for special occasions and stage performances. With selected materials and special cuts, the exclusive individual pieces are eye-catchers at a gala or a red carpet.
Since these outfits differ greatly in terms of design and the effort involved in making them, I offer them under the premium brand CHRISTIAN MOORE.

Social media
You find my social profiles on: