1. Shipping within Germany
1.1 Shipping with Deutsche Post respectively DHL
| Weight (goods) | Shipping costs | Shipper | Transit time* | Delivery days |
| --- | --- | --- | --- | --- |
| up to 300 g | 2.00 € | | 1 - 2 days | Monday - Saturday |
| from 301 g | 4.00 € | | 1 - 2 days | Monday - Saturday |
Delivery to "DHL Packstationen" is possible.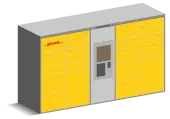 1.2 Shipping with DPD or Hermes
Shipping costs
Shipper
Transit time*
Delivery days
4.00 €
2 - 3 days
(parcels can be shipped the next working day only; no parcel collection on Saturdays)
Monday - Saturday
4.00 €
2 - 3 days
(parcels can be shipped the next weekday only)
Monday - Saturday
* = Each transit time is the regular transport time of the shipping company and is not a guaranteed date of delivery.
2. Shipping costs to Belgium and the Netherlands
The shipping costs depend on weight and parcel size and are 9.00 or 11.00 € and are calculated and shown already in the shopping cart.
You can choose between shipping companys Deutsche Post respectively DHL, Hermes, and DPD.
Pick-up by customer (Click & Collect)
Pick-up of ordered goods is free of charge. Customers can collect their order at the following pick-up point:
Hotel Wiesmann
Castroper Str. 191
44791 Bochum
A different pick-up point can be arranged, too.